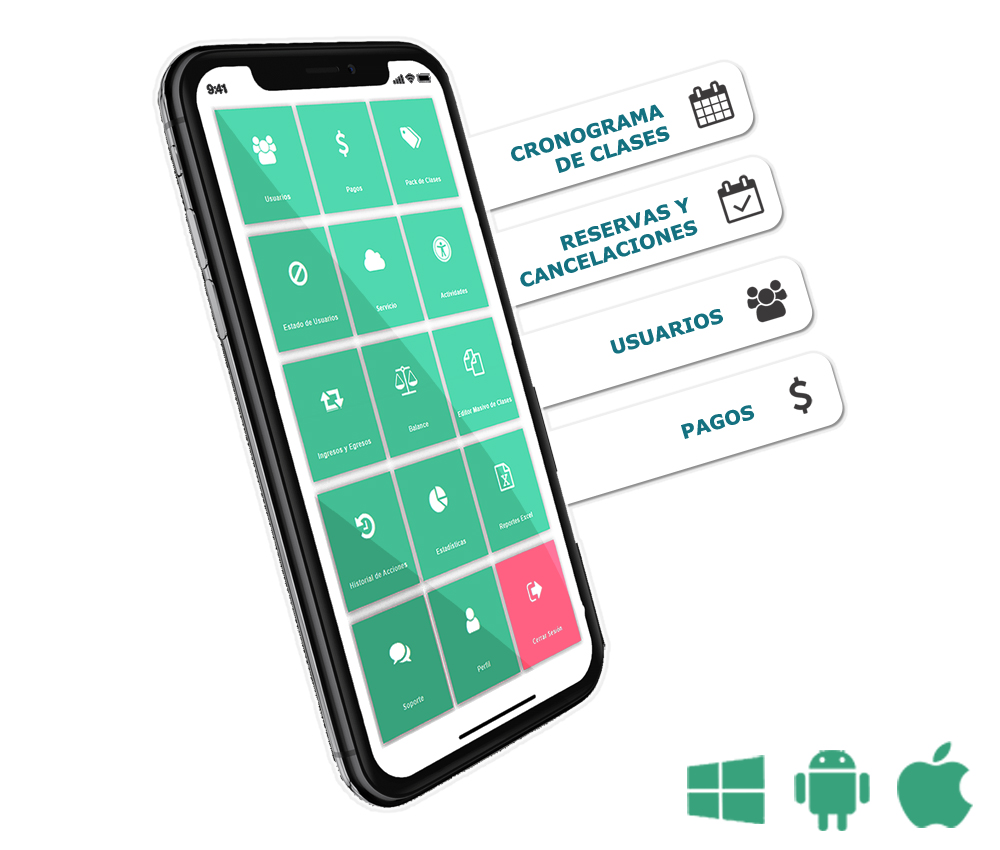 RESERVATION SYSTEM
With our APP your students will be able to book, reschedule and cancel their classes without having to send you messages.
The system works online 24 hours a day.
We help you configure the system so that it does what you need.
Our support is by Whatsapp (+5491166889471). We teach you how to use the system and we are always present.
APP available and free for Android and IOS, in addition to the WEB version.
Ideal for Pilates, Yoga, Pole and many more studios
Dance centers, places with dance classes, running teams, crossfit, calisthenics, taekwondo, meditation, English classes, pottery classes, among 50 other items.
Integration
Everything in one place: Class Schedule, Students, Reservations, Payment Forms, Class Packs, Balance, Statistics Graphs and much more!
system
Here are some of the program's features.
Try it now, online and without commitment
We recommend you follow these steps
PRICES
The plan adapts to your business month by month.
STANDARD PLAN
A single plan that adjusts to your growth
ACTIVE STUDENTS:

Cost per student: USD/month
USD/month
See Premium plan
PREMIUM PLAN
It has the same functions as the basic plan, but it allows you to customize the system in your own way, here are some examples, but you can create it with your favorite images and colors! The value is that of the Basic Plan (+25%).
Contact - Latin America
You can contact us by email or whatsapp.
address
Coronel Ramón Lorenzo Falcón 2358, Buenos Aires, Argentina
Contact - Europe
You can contact us by email or whatsapp.
ADDRESS
Calle de las Fuentes 5, Valencia, Spain
more info
You can make your query through the following form. We will respond by email to the address you indicate.